There's no doubt that today's housing market is changing, and everything we see right now indicates it is time to sell. Here's a look at why selling now is likely to drive the greatest return on your largest investment.
Home values have been appreciating for several years now, growing at a strong, steady, and impressive pace. In fact, the average annual appreciation rate since 2012 has nearly doubled the average rate from the more normal market of the 1990s (think: pre-bubble).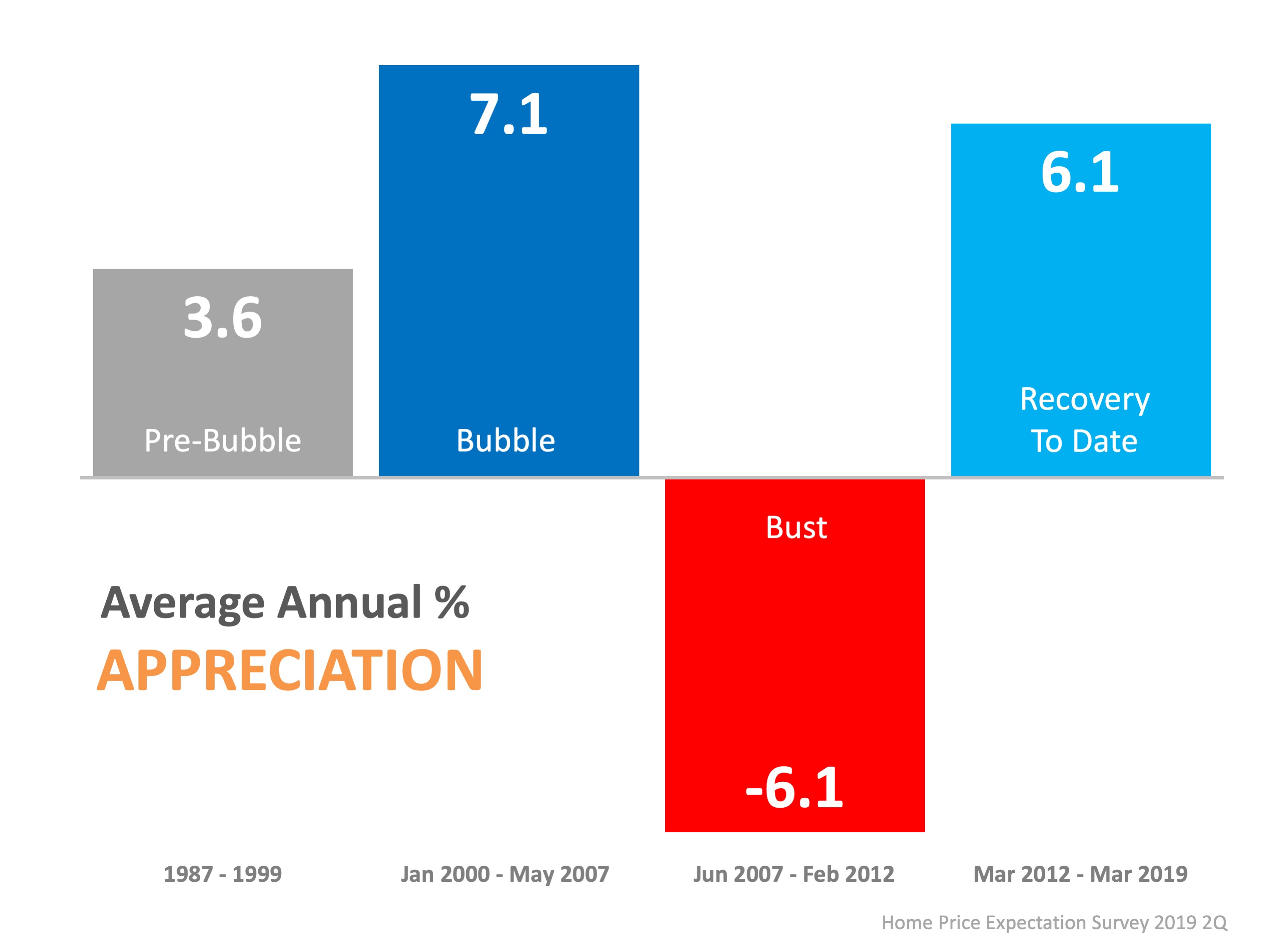 Appreciation, however, is projected to shift back toward normal, meaning home prices will likely keep climbing over the next few years, but they are not projected to continue to increase at such a high rate.
Here's What That Means for Homeowners:
As noted in the latest Home Price Expectation Survey (HPES) powered by Pulsenomics, experts forecast an average annual appreciation rate closer to 3.2% over the next five years, which is more in line with a historically normal market (3.6%). The good news is, there's still time to take advantage of the current strength of home prices by selling your house now.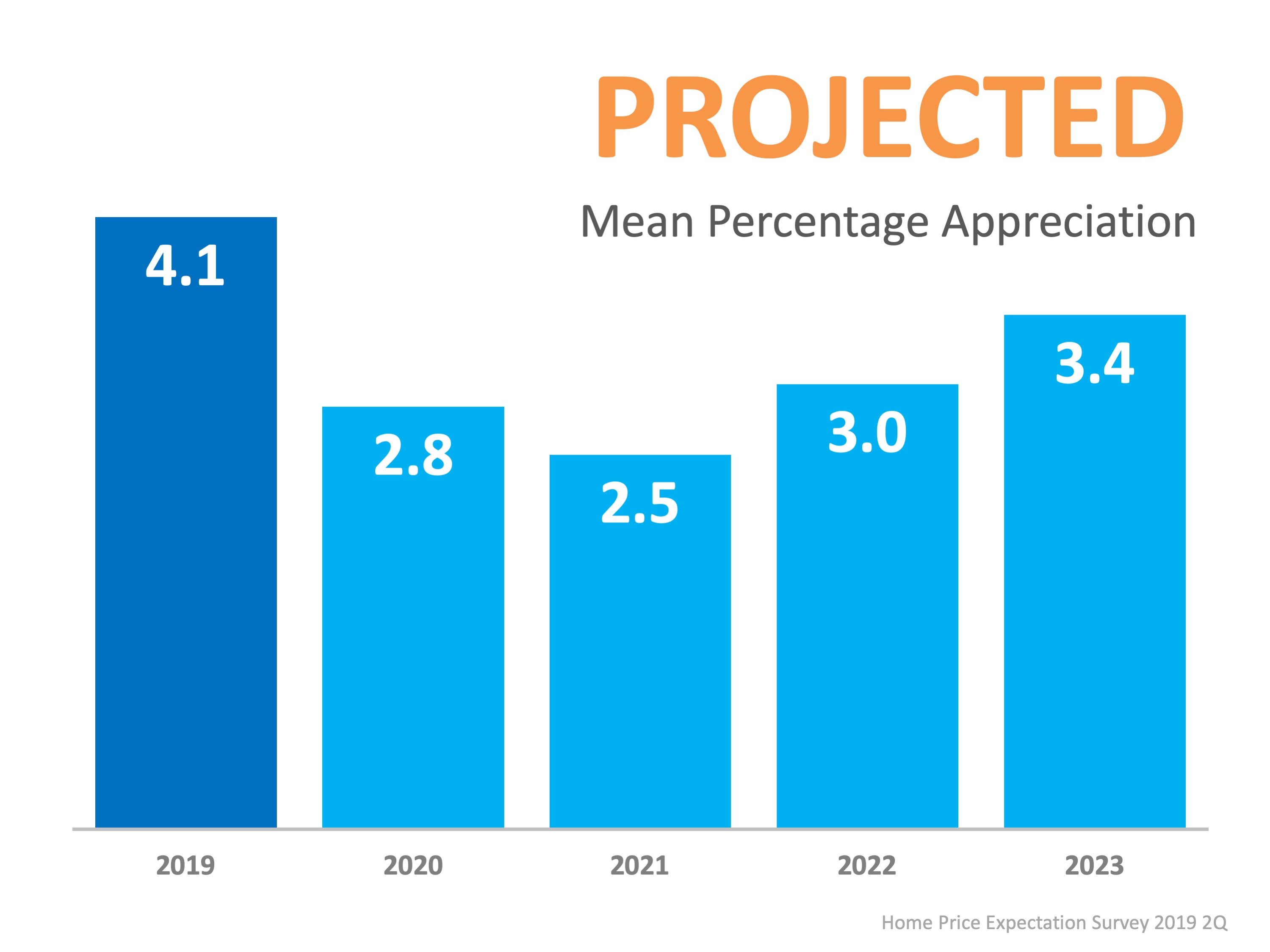 Looking at the projections as they stand today, 2019 is slated to drive the strongest appreciation as compared to the upcoming few years. With average home prices still on the rise, the pace at which they are predicted to continue increasing will likely soften by 2020.
Bottom Line
If you're thinking about selling your house, now is a great time to make your move. Don't get stuck waiting until projected home price appreciation rates potentially re-accelerate again in 2023. You'll likely earn the greatest return on your investment by selling now before the prices start to normalize next year.
A great Realtor you should hire for you next Purchase of Home or Sale of you Home in Maryland.
Skip Young | EXP Realty | Waldorf MD Realtor®
Realtor®, Veteran, New Home Sales
888-860-7369 x 240 Broker
301-337-1999 Cell
eXp Realty
137 National Plaza, suite 300
National Harbor, MD 20745
www.skipyoung.com
Caruso Homes "Build on Your Lot"
2120 Baldwin Avenue, Suite 200, Crofton, MD 21114
www.carusohomes.com
Hire Skip Young as your next Realtor to Sell or Buy your next home.
Maryland Realtor® | Veteran | eXp Realty | Director of Government Affairs Annapolis
Fort Meade MD Realtor Skip Young Realtor for your Military move!
Military Families Matter!
Waldorf MD Realtor - Skip Young Being very fortunate enough to have a father in the Navy who was stationed in Hawaii for 18 years, I was able to grow up as a military child with only two duty stations. After leaving Hawaii's Barbers Point, our PCS was to San Diego. After Skip Young's father's retirement from the Navy my father decided to return back home to the state of Maryland. I was taught the disciplines of a Military Son. If your reading my Bio here you will understand.
I myself then signed up for the Army because I knew in my heart serving my country was the first step in manhood. I left Baltimore MEPS and headed for Fort. Benning GA. Infantry training began, then Airborne school and then Ranger Indoctrination Program RIP. Yes this was the Black Berets that came and got me from graduation of Airborne school. The rest of the story is I ended up at 1st Ranger Battalion at Hunter Army Airfield. I can go no further than this at this point. I served my country from 91 -94.
While in Ranger Battalion I was trained on Motorcycles during Airfield Seizures, I had taken my bike for training at Ft. Stewart GA where a POV pulled out in front of me. I was then removed from Battalion and took up duties on base that would allow the repairs to my knee to heal. Jobs such as maintaining the Gym, Hunter Army Airfield Reporter, and my final job was to drive General DeFransisco I performed duties on Hunter Army Airfield just like a Ranger would and it showed.
I returned to my home state of the Hawaii and was assigned to the 25th Infantry Division while there I served out my term and received a disability rating and returned home to Maryland.
I first got into Real Estate at the same time I opened my first Wireless store. Early 2000's was great for Real Estate and a great way to learn quickly like a Ranger would. Since there was boom in the Real Estate market as a Realtor I sold 60 homes that grossed over 12.5 Million. This won an award for Rookie of the year in Calvert County MD. My success has continued ever since. I have since received a degree in Information Technology since he Real Estate Market has changed to a digital and internet based platform.
Currently I am a Realtor working at Remax 100 in White Plains MD. To help move Active and Veteran Military persons I have been certified as a Certified Military Relocation. To assist in making your transition as smooth as possible. Being an Elite Solider, there are times when I would just have to leave for deployment. In this situation you need someone you can trust and understand the security that comes along with the job. Your job title is not a factor to me, the factor is making sure you home is secure, on sale, for rent, investments protected and someone is keeping an eye on your property while you are serving your country. We work in a world where things move very fast, you need a Realtor that can handle the pressure of what pressure you experience everyday in military life.
Certified Military Relocation Maryland – Skip Young
To get in touch with Skip Young and have myself personally work for you in your PCS transition please fill out the form bellow or give me ca call and I will get right on your Maryland House Purchase, Sale or Rental. Currently working in the surrounding area's of Patuxent Naval Base PAX River, Andrews Air Force Base, Fort Meade and Indian Head Naval Base.